Recently, the provincial science and Technology Department of Guangdong province to organize review, three products: Bi software company enterprise basic data management system, mobile medical service system, configurable data collection system, was awarded the "certificate of hi tech products, marking the company has achieved a new achievements in science and technology innovation.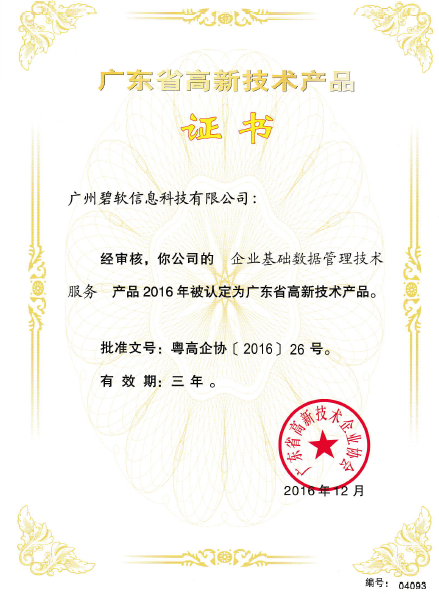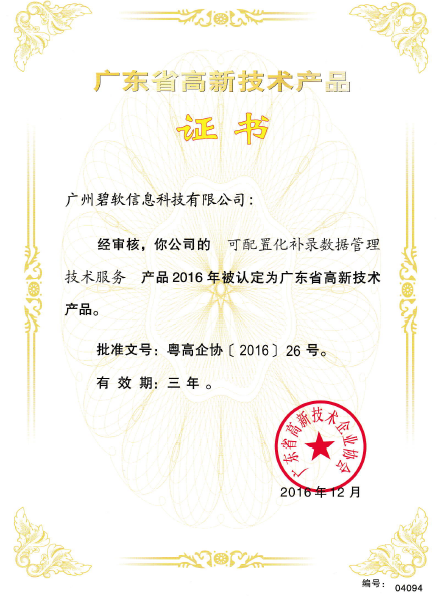 High and new technology products refer to the brand-new products conforming to the key areas of state and provincial high-tech, technical fields and product reference catalogue. Its features are as follows:
First, high technical content. Especially the core technology, it is related to enterprise development and profit;
Two, the early stage R & D investment in high-tech industries is more money and longer time, so it is difficult to popularize;
Three, once the new product development success, with higher than the general economic and social benefits;
Four, in the short term will not be replaced or exceeded.
Guangzhou Bi Soft Information Co. Ltd was established in 2010, is one of the fastest growing software service provider in Southern China, Guangdong Software Industry Association member units, headquarters is located in Guangzhou Tianhe Software Park, hi tech Park (the ten national software industry base is one of the outstanding enterprises in Guangdong province), planning key software enterprises and software park and the Department of information industry of Guangdong Province identified software enterprise units, through the ISO9001:2008 software quality standard certification, for global customers to provide technical services and consulting software.
Since its inception, has been adhering to scientific and technological research and development and technical achievements transformation, has won more than 12 national software copyright. In 2015, the company was named as "small and small enterprise of scientific and technological innovation" in Guangzhou by virtue of its strong technological R & D advantages".
The successful implementation of this high-tech products, is the provincial science and technology department and other relevant departments of our company over the years scientific research achievements and scientific and technological innovation ability of another authoritative recognition. Our company will continue adhering to the "innovation, integrity and delivery" enterprise culture, adhere to the science and technology of the hotrunner power continues to meet consumer demand at the same time, promote the industry towards a more intelligent and more efficient way of science and technology.